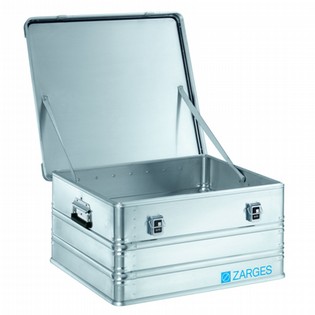 -High quality aluminium universal box.
-Lid with stainless steel hinges, two straps and foamed seal.
-Corners made of cast aluminium.
-High level of stability provided by three fully welded aluminium profile frames.
-Fully welded profile sections.
-Riveted corners for additional dimensional stability.
-Extra thick 1,5 mm aluminium sheets (all K 470 boxes with base dimensions 750 mm x 550 mm and above).
-Ergonomic sprung drop handle.
-Handles ZARGES Comfort for ergonomical handling and load capacity up to 50 kg.
-Ergonomically designed, durable and comfortable snap fasteners for at least 20.000 operating cycles (opening and closing).
-Snap fasteners can be secured with plug locks, lead seals or padlocks (maximum shackle thickness 6 mm).
-25 standard sizes, customised sizes available on request.
Marking: 40841
Internal dimensions (L x W x H, ca.mm): 690 x 640 x 340
External dimensions (L x W x H, ca.mm): 740 x 690 x 370
Volume [l]: 150
Weight ([kg]: 8,0
Maximum total weight [kg]: 84,0
Foam inserts: 43874