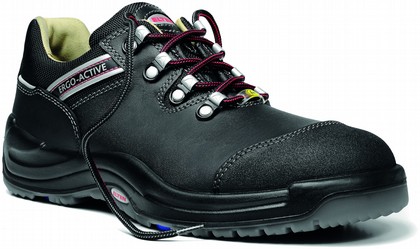 Properties: foot type 1 (suitable for larger feet, short toes, wide ball and heel area, steep ball area), ergonomic and comfortable, Ergo-Activ system, composite protective inlay sole, without any metal parts, TPU protective toe cap cover, ESD, suitable for EPA environment
Upper material: smooth leather/ microfiber
Lining: leather
Insole: ERGO-ACTIVE® type 1 (supplied with medium)
Sole: PU/TPU ERGO - ACTIVE®
Colour: black
Standard: EN ISO 20345 S3 SRC, EN 61340
Footwear available in three different foot types. TYPE 1, TYPE 2 and TYPE 3. They differentiate in the foot shape which makes it possible for you to choose work shoes according to the ergonomic shape of your feet.