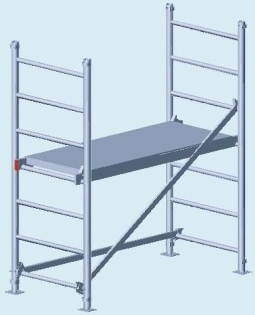 Base module A. Scaffold length: 2,00 m; scaffold width: approx. 0,70 m. Working height from 2,95 m to 8,85 m; extension modules
B, C, D. Scaffolding category 3 (load capacity up to 200 kg/m2) according to DIN EN 1004. With chassis beams, galvanised steel. Working height 8,65 m has four additional stabilisers. With ground plates; swivel castors with or without height adjustment are sold at additional charge.
Technical data:
Working height: 2,95 m
Scaffold height: 1,80 m
Platform height: 0,80 m
Weight: 27,1kg
Fields of use: roofing, construction, industry, maintenance
Material: aluminium
Standard: EN1004
Note: ballast weights are not supplied with module.
Ladders
Ladder material
Ladder models
Purpose of ladder use